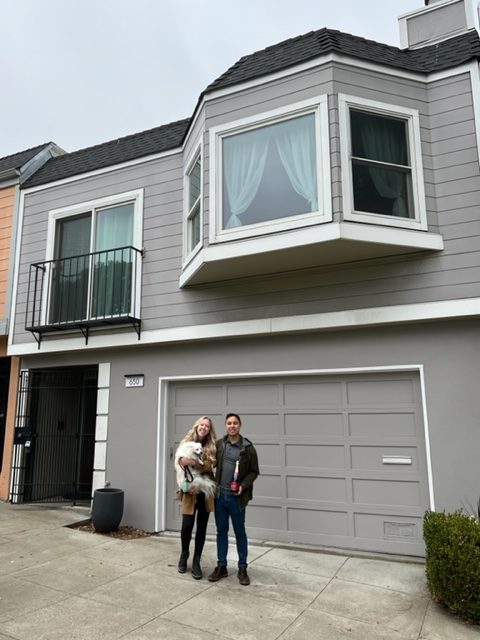 Johnny and Becca San Francisco- Johnny (Infantry US Army)
Hassan and Lesley Concord-Hassan (Engineer US Army)
Sal and Edith and Kids (Sal US Army)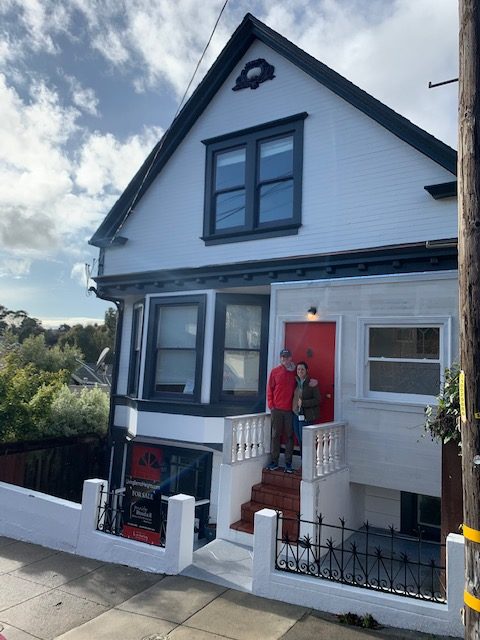 Mike and Colleen (Mike US Marine-Infantry Officer)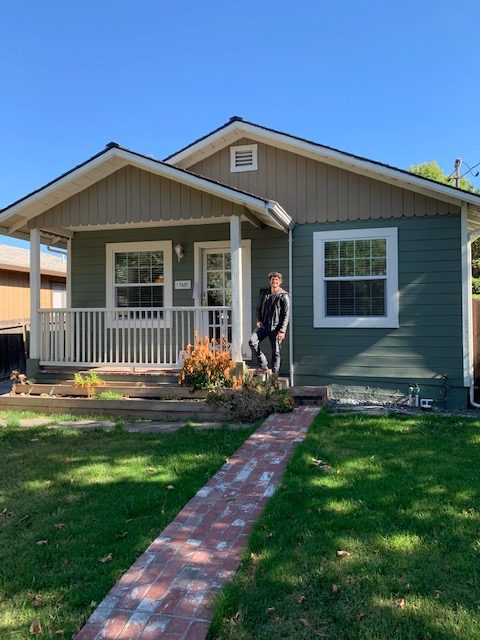 Diego (US Marine-Infantry)
From the first moment we contacted Dan he spent time educating us on the home loan & purchasing process. His knowledge as a realtor and broker loan officer offers the best combination in terms of securing a great loan and home. He is meticulous and attentive to detail. He helps you make sense out of the voluminous documents that you encounter as a home buyer, for ex. property disclosures, loan terms, and closing process.
Throughout the home-seeking experience, Dan was supportive, available, informative, and ready to follow our lead. He strategically approached every situation in order to make us more competitive, to the extent that within 3 months of working with him we closed on a home of our dreams in the highly competitive market of San Francisco with a VA loan. Not only was Dan our realtor and broker loan officer, but he also became our friend. Dan is truly a MASTER of his trade.
Dan Joy is a Godsend. I knew I wanted to refinance, but I was weary of the entire refinancing process, again. The 1st time I refinanced, it left me feeling lost in the dust. Not a lot was explained, everything felt rushed, and very impersonal.
Dan Joy was referred to me by one of my trusted and beloved Army brothers. I am so thankful to have refinanced with you! Every bit was explained and if I did not understand something, Dan encouraged the questions, even presented me with options. I never felt rushed, never felt unclear of anything, and I must say, I kept Dan on the phone for a while. He was so ever patient with me and because of that, I feel more knowledgeable and involved with my house. Dan shows you that your hard work is paying off and he's there every step of the way, even until today.
Please don't ever retire!
Positive: Professionalism, Quality, Responsiveness, Value
Dan Joy represents everything you want in real estate agent and friend; he is kind, incredibly responsive, persistent and is an absolute joy to work with. My husband and I thought finding a home in the Santa Cruz mountains that qualified for a VA loan would be difficult, and we were right. However, with Dan's hard work and dedication we are now proud homeowners of our dream property. I cannot thank Dan enough. I also cannot recommend his services and company enough. Thank you Dan Joy for your military service and for making my husband and I's dreams our reality. Thank you! Thank you! Thank you!
I highly recommend using Dan Joy! I couldn't have asked for a more objective and competent person throughout this whole ordeal. He was always available, knowledgeable, and professional.
I couldn't have been happier to have found Dan for my first home purchase. After going through 2 real estate agents and trying several mortgage companies (i.e. Veterans United, USAA, NavyFed); Dan really helped me understand what the real costs associated with buying a home were. Throughout the entire ordeal, he stayed vigilant and focused in what I wanted in a new home (San Jose, Single Family Home, Garage, space for an ADU).
He never BS'd me or pushed anything he felt I wouldn't happy with with while maintaining expectations. Unlike the other real estate agents, (that kept pushing Condos and Townhomes) Dan always stayed on track. Even more important was that he was patient and didn't just sling houses on me and hoping one would stick.
When we did find a house I wanted, he wasn't afraid to push for the best deal. Not only did he get me a house for nearly 6% under asking with no major issues, he hacked away at getting several years of insurance covered, termite inspections and fumigation covered, and multiple closing costs covered. Even all the way down to the final inspection walk through, he got me the matching house paints and tools that were still on the property.
Even throughout the loan process, he was on it! Twice a day checking the fluctuations in interest rates and re-running the numbers across multiple lenders to get the best interest rates.
Again, I highly highly recommend Dan Joy.
Throughout our entire experience buying our first home, Dan was extremely communicative and transparent, guiding us through every step of the process. We also used the VA Loan in the very competitive SF Bay area market; without Dan, I'm convinced there is no way that we would have been able to successfully use the VA Loan in this market. Dan was an advocate for us all along the way, and his dedication and work ethic were what allowed us to close on a single-family home. I would very highly recommend Dan to any potential home buyers, and also specifically for those looking to navigate the market with the VA Loan.
When my wife and I started the search for a home, we knew we would have our work cut out for us. We knew we'd be competing with cash buyers and dealing with sellers that didn't want to have to deal with the VA Home Loan. Once we connected with Dan, the process went smoothly and quickly.
Dan helped us define what to look for and approach the Bay Area real estate market realistically. We started with our preferred area and on the first day we found the home we wanted. Within 48 hours our bid was accepted. Prior to the bid, we worked with a lender that took a long time to get us preapproved and knowing we were wanting a home sooner rather than later he hooked us up with an excellent lender that worked in tandem with Dan to ensure the seller is comfortable with the VA Home Loan and understood all the nuances associated with it.
We cannot express enough how helpful, thoughtful, and empathetic a realtor Dan is. From beginning to end, he's right there with you ensuring the home not only meets the VA's requirements, but the purchaser is certain it's the home for them.
Thanks, Dan!
Hello Dan Joy my new friend. I just want to express my heartfelt appreciation for the services you had given me. I am speaking about how you in a expedicous and professional manner you help me find a home. You have work evenings and weekends in order to  help me immeasurably in dealing with the hardship of selecting a home. During that time, you made all things possible by sacrificing your personal life. You always want to vollunter and advice me on where I could find a home suited for my satisfaction. I highly appreciate your unselfish devotion to help a family select their lifetime home. I am proud to say that I recommend you to all my friends and relatives as an outstanding real estate agent. In closing it is great to call you my friend. You will always be a wonderful and dedicated real estate agent who strives to help families in need of a home. Thank you for your excellent  service.
I just purchased my new home thanks to Dan! I was really hesitant at first in the whole process, but Dan was always calm, informed me of each step, and was there helping me thru my escrow and signing. For example, he didn't need to be present for my appraisal date, but he was, and he was present to provide facts and demographics to help the appraiser make a more accurate judgment in appraising my house. Talking to other people, most realtors do not do this, only the experienced ones – those that know the Ins & Outs of this business. You won't find a more dedicated realtor who specializes in VA loans!
Working with Dan was a lifesaver! My wife and I are first time homeowners and knew nothing about purchasing a home. Dan sat with us and talked with us and made sure we knew what we were getting ourselves into helped us to narrow down our options into what we were looking for. My wife and I felt at ease as Dan went above and beyond in helping us. Our schedules sometimes only allowed us to view homes layer in the evening and Dan had no problem meeting us late in the evening and occasionally very early to help us out. As more and more stress arose well into the closing process Dan was always there to help us and to make sure he processes was moving along. I highly recommend Dan and would gladly give an extra star to this rating if I could.
This was my first purchase of a home in California and Dan Joy made my process to purchasing a home so easy. Dan Joy made sure that I knew every step and process to becoming a home owner. Dan is very knowledgeable when dealing with the load company and ensured that every process was explained to me in detail. Dan was able to answer every question I had and was able to provide me with an answer that he didn't have available. Dan basically held my hand throughout the process to ensure that I didn't get surprised with unforeseen details. Dan was more than a realtor he was a friend. He would go out his way to help you find that perfect home. He listened to our needs and always did he best to provide us with great options to choose from.  I would be Glad to refer Dan Joy to all my friends in the market to purchase a home. Thank you Dan, GREAT JOB.
I needed to move up to the San Francisco area quickly for a job, and I wanted to avoid renting due the pricy renting costs.  When I flew over to San Francisco to look at houses, Dan demonstrated extreme dedication, covering a lot of area in the East and west bay areas, until he helped me find my dream house.  He went over and beyond his duties to ensure I would be taken care of with optimal satisfaction, and to make sure I would be in my new home prior to starting my new job.  Mission accomplished.  To all you fellow veterans out there…….YOU WANT TO HIRE THIS GUY!  HE'LL TAKE CARE OF YOU!!!
My wife and I recently purchased a condo with Dans help.  Dan was very informative and led  us through the purchasing steps with ease and made this a lesser stressful time than what it could have been .  He made the steps of going through the VA loan process easy and we would definitely recommend him to others.
Without Dan we would've probably abandoned the idea of buying a home in the Bay Area. What he did for us to get the home of our dreams was nothing short of INCREDIBLE. He made sure we were clear on every step of the process, and his attention to detail was impeccable. He is one of the hardest working people we have ever met–period. Super efficient, responsive, honest, with the heart of a lion. He pulled MANY rabbits out of hats for us, and all the while he was very enjoyable to work with day to day. He always made us feel like we were his only client. You need Dan in your life if you are buying or selling. Our realtor for life!
We had the pleasure of working with Dan on the first home we've purchased in the Bay Area. I honestly don't think we would have been successful without Dan. His deep knowledge of the real estate market, his attention to detail and focus on value, and his diligent extra work in the background to feel things out were the key success factors in our purchase of home.
I've had many friends recently purchase homes, and thanks to Dan we avoided all of the headaches I've heard about from others. The process was quick and efficient. When it was all  said and done, we found the home of our dreams with instant equity. And we closed a VA loan in record time. Dan Joy is my real-estate agent for life, and I will actively recommend him to anybody buying a home.